This web page details the bikes I've assembled over the past few seasons. For race and ride reports, check out my blog:


Jay's Bikes: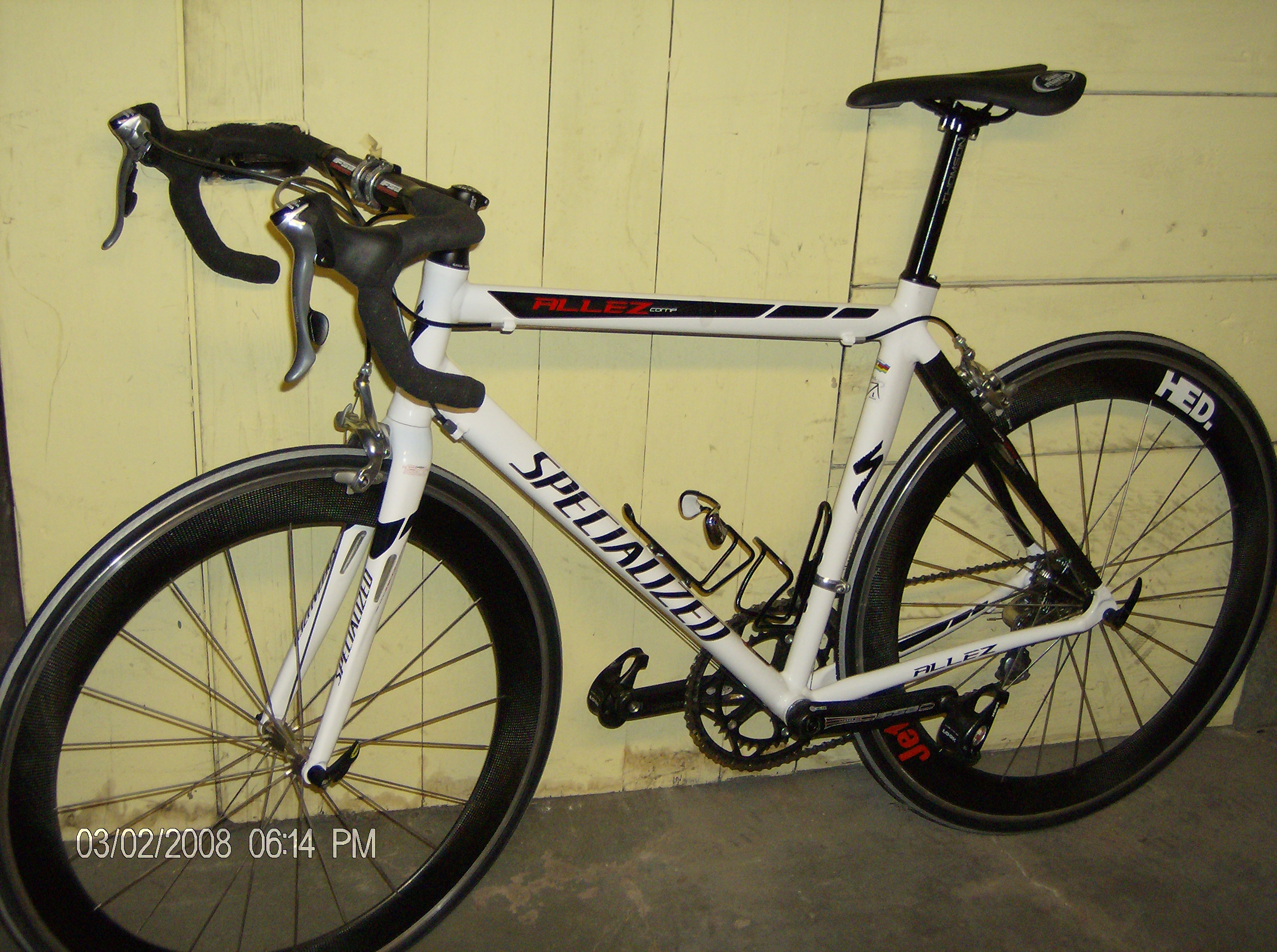 Specialized Allez
I built up this Specialized Allez frame in February '08. The frame is Fact 5 aluminum with carbon seat stays and a carbon fork. I put Ultegra derailleurs, brakes and shifters on it along with an FSA carbon crankset, FSA Wing Pro handle bar, Ritchey WCS stem and Thomson seat post. The wheels are Hed Jet 50s.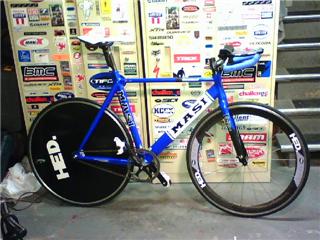 Masi Coltello Track Bike
This is the Masi Coltello aero track bike I built up for time trials and pursuit racing at the NSC Velodrome. I've got drop bars for the scratch and miss and out events. The bullhorn bars are from Syntace, the aero bars are Vision and the stem is a Ritchey Pro. As for the saddle and seat post, they're both RavX. In fact, the seat post is the carbon, aero version. I'll upgrade the crankset at some point. For now, it's a Truvativ Touro with an ISIS bottom bracket. The pedals are Look and the track cog is Dura Ace. With a good deal on Hed Wheels from the Loon State Bike Team along with our shop, the Bicycle Chain, I got a Hed Track Disc. The front wheel is a Hed Alps deep section carbon 45mm.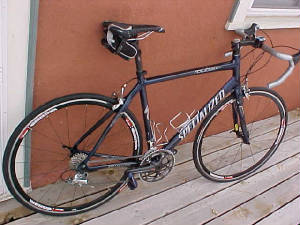 Here is my Specialized Roubaix. The only thing I changed was the wheelset. It came with Alex 295s. I put a set of Easton Vista SLs on the bike. The frame is carbon fiber as is the Specialized fork and Specialized seatpost. Among the Ultegra parts are the shifter/brake levers, and front and rear derailleurs. The brakes are 105 and the crankset is an FSA carbon fiber model. The bike weighs 18 1/2 pounds.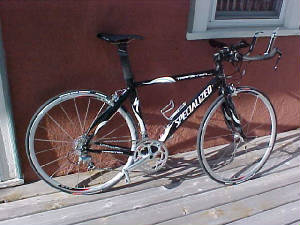 Specialized Transition Elite
Pictured above is my Specialized Transition Elite Time Trial Bike. The bike has an aero aluminum frame, carbon fork, Alex 330 bladed wheels, Ultegra front and rear derailleurs, time trial brakes, Tektro brake levers, Dura Ace time trial shifters, Ironman carbon time trial bars and a Specialized aero carbon seatpost. The saddle is a Velo.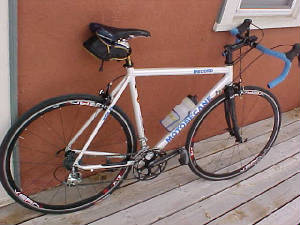 Pictured above is the Motobecane bike I built up. I had the Weyless carbon fork, Easton carbon bars, Easton carbon seatpost, Giant carbon stem and FSA carbon crankset. I also had the Tektro brakes, Xero wheels, 105 shifters/levers, Ultegra rear derailleur and Ultegra front derailleur. Those parts were from other bikes I took apart. All I needed was the frame which I got on eBay. The complete bikes weighs 18 1/2 pounds.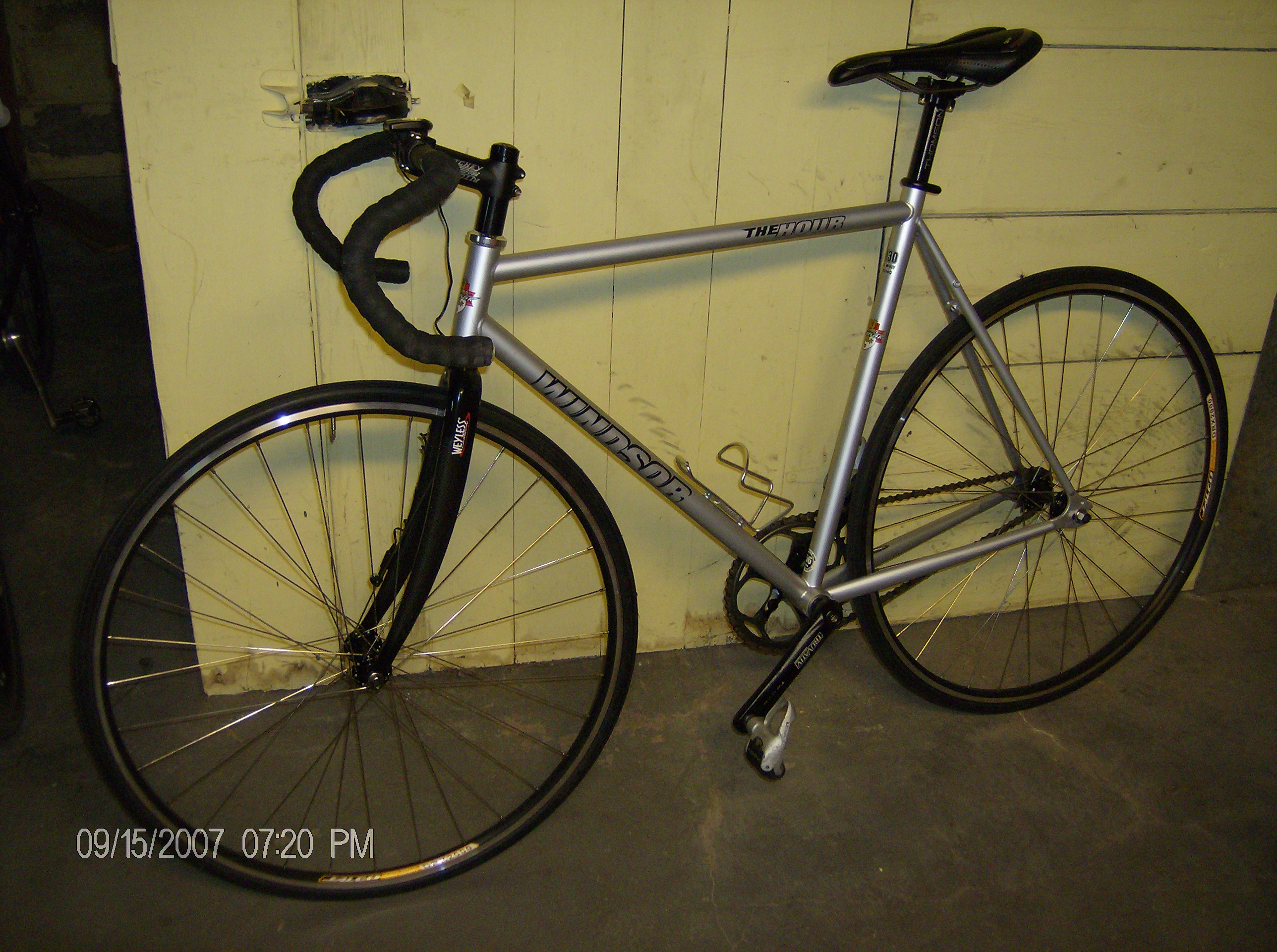 Windsor Track Bike
This is my Windsor track bike. I got it online for $300. Just like all track bikes, it's pretty basic. No brakes and a fixed gear 48x16 combination. I added a Thomson seat post and a Specialized saddle.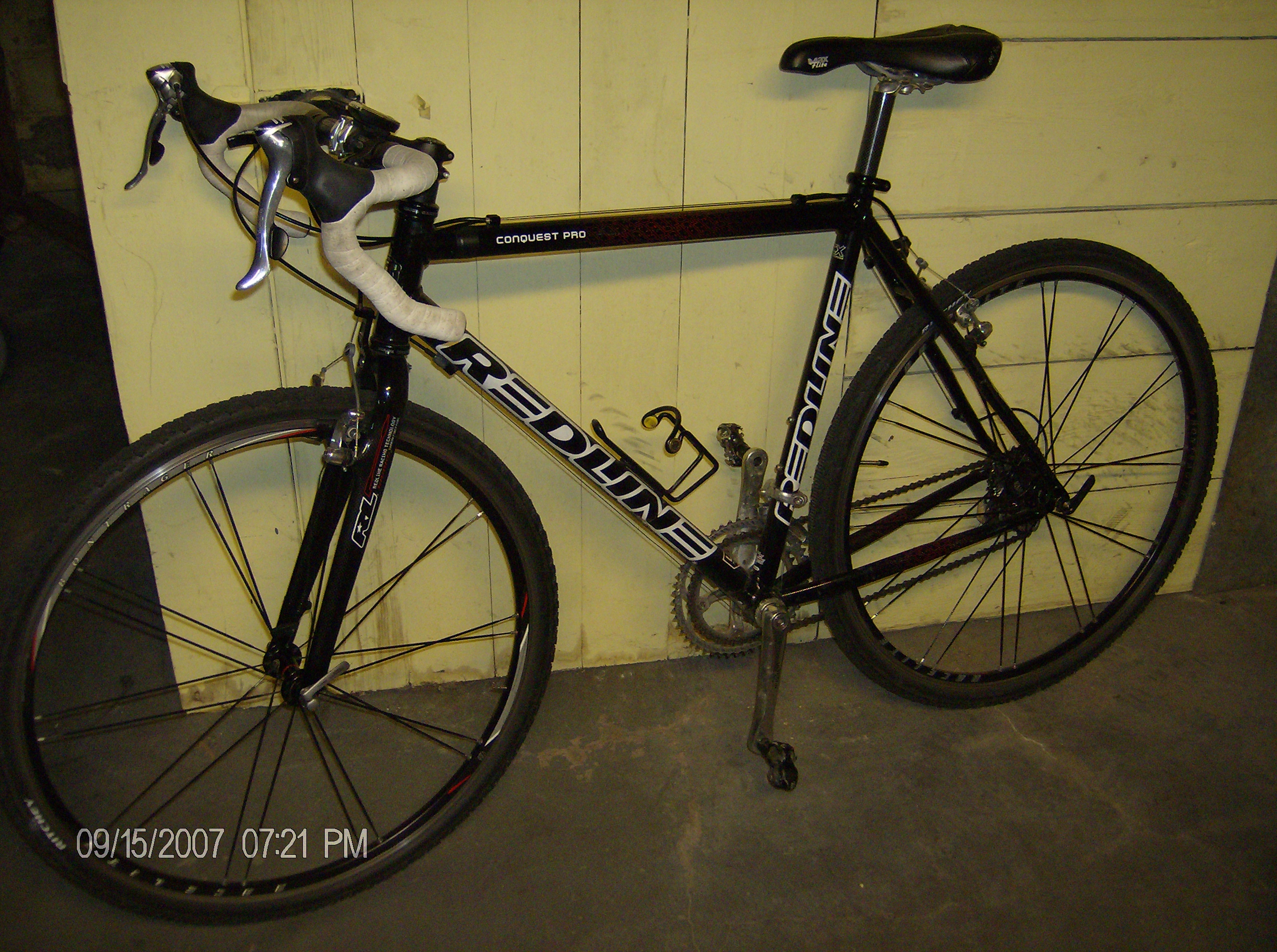 Redline Conquest Pro
Here is the Redline Conquest Pro cyclocross bike I bought from Bob Sumada. Bob sold me everything but the wheels. The frame is aluminum and the Fork is carbon. The groupo is Ultegra with a Dura Ace rear derailleur. It has a Ritchey Pro handle bar. I put a Ritchey WCS stem on the bike and a set of Bontrager Race Lite wheels with a 12-26 cassette. It has a Selle Italia Trans Am saddle.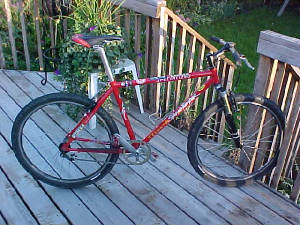 Specialized Stumpjumper, The "Teginator"
This steel Specialized Stumpjumper, "the Teginator", has a long history. Among the past owners were Mike and Matt Clancey and Lee and Tom Bengel. I rode it for a year with XT components. The bike has had several set-ups since I've owned it but I had Bob Brown put horizontal dropouts on the bike in May of '06. I built the frame up with a Rock Shox SID fork, LX Crankset, Mavic Crossmax wheels and Deore brakes and levers. It's a light and fast single speed. The chainring in front is a 36t. I can switch between 14, 16, 18 and 20 cogs.
Bikes I No Longer Own: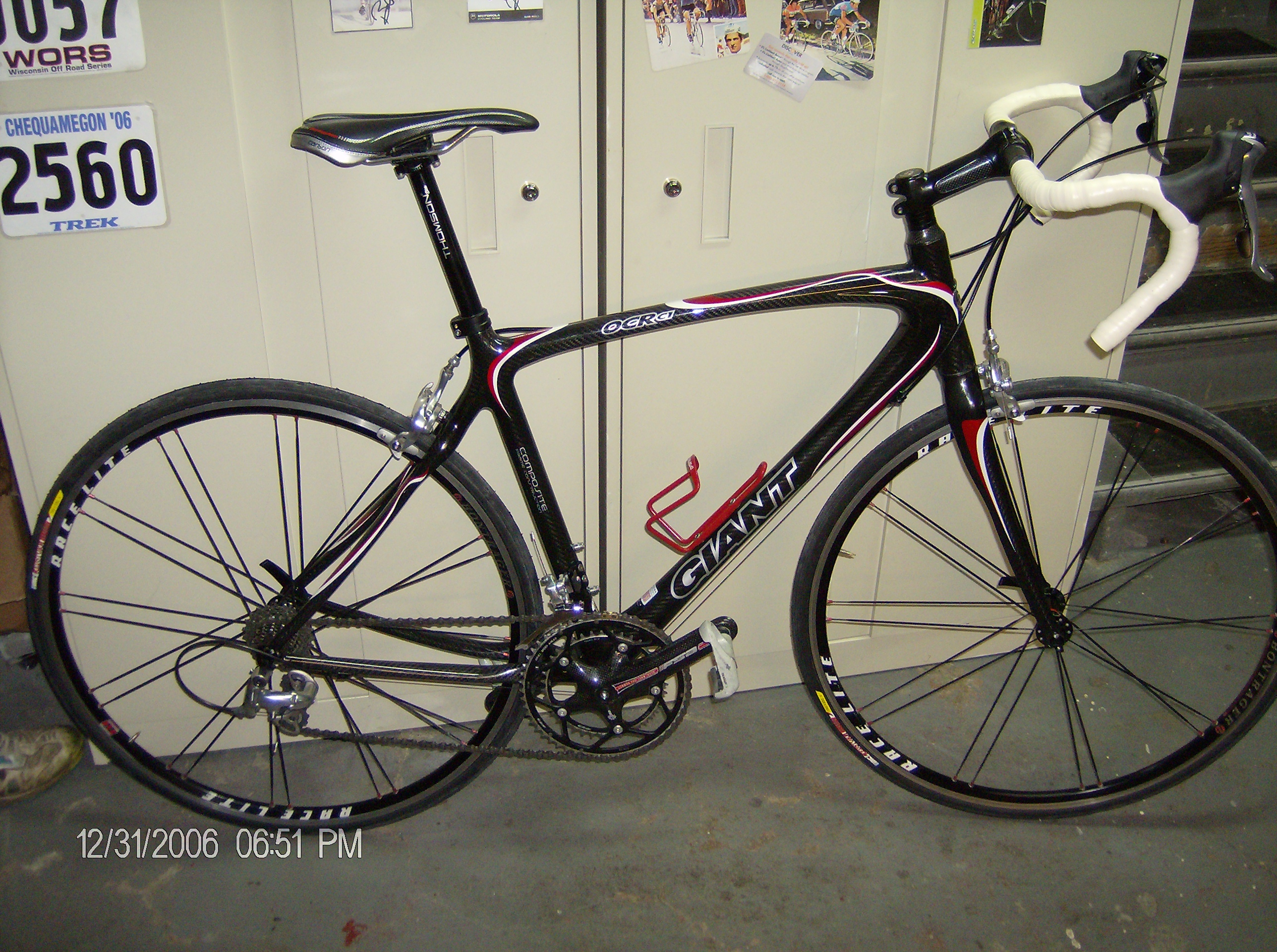 Giant OCR C1 Carbon Road Bike
This bike is the Giant OCR C1 Carbon road frame and fork that I purchased on eBay. I built it with parts I had including an FSA carbon crank, Dura Ace front and rear derailleurs, Tektro long reach brakes, Ultegera right side 9 speed shifter/brake lever and a Shimano 105 left side double shifter/brake lever. As for the seatpost, it's a Bontrager Carbon. The stem is a 100mm Easton EA70, while the handle bar, is an Easton EA70 Wing. I put on a Selle Italia saddle and a set of Xero XR1 wheels. This is one bike I should have kept. I sold it to Joe Stuber.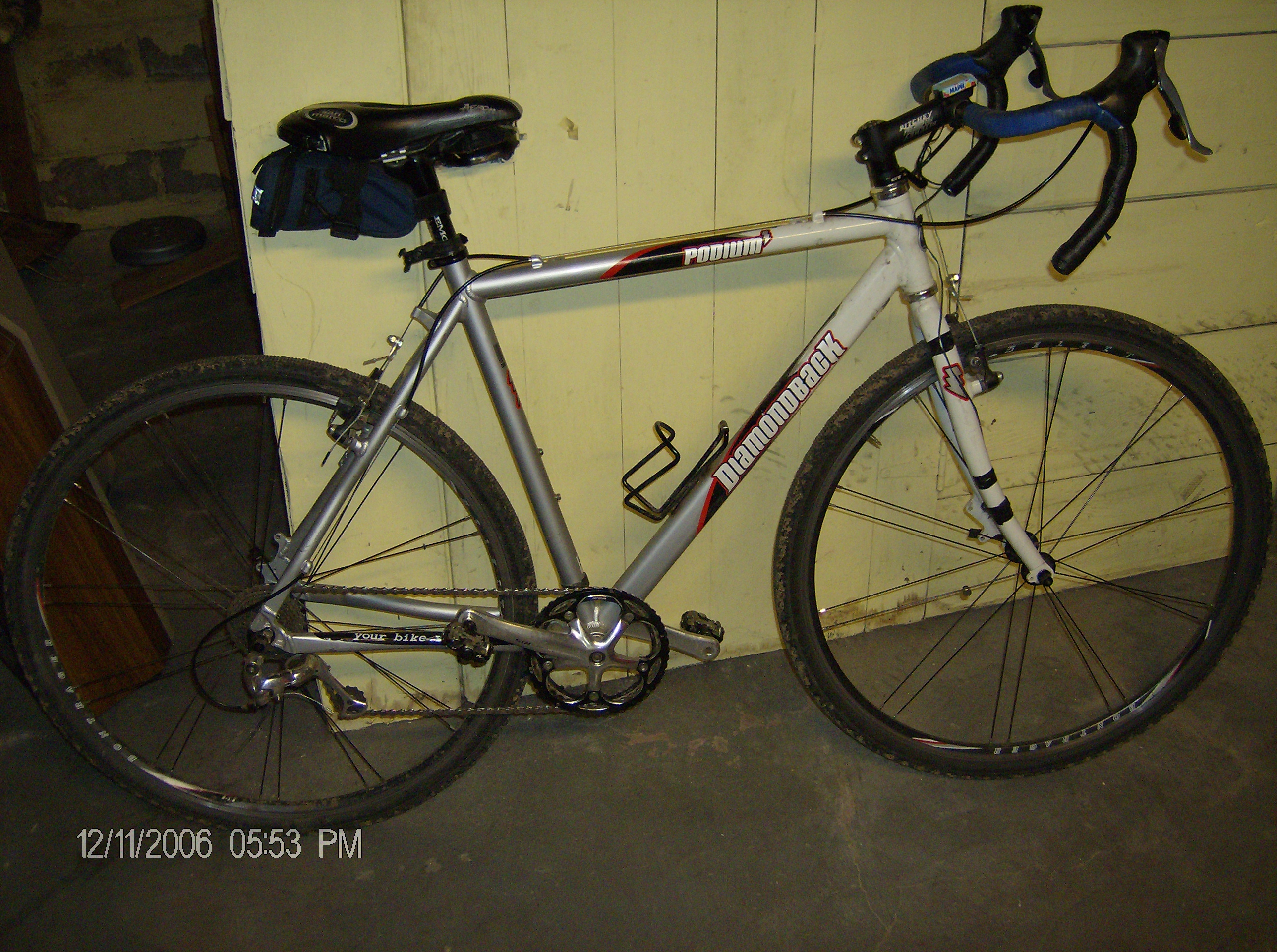 Diamondback Cyclocross Bike
I bought this Diamondback Podium aluminum cyclocross frameset on eBay. I built it up with Shimano 105 components and Bontrager Select wheels. After riding it a week or so, I changed the double chainring to a single 42t version. The bike weighs 22.8 pounds. I sold this bike to a kid Mike Lyner knows.
I purchased this 1992 Paramount on eBay. It is a Series 3 PDG (Paramount Design Group) which came with Shimano RX100 components. Other Paramount models used the same Tange Prestige frame. One, the Series 2, had less expensive Shimano Exage components. Two others were higher end. One was the Series 5 which came with Shimano 105 and the other, the Series 7, had Shimano 600. Each bike, based on the component group, came in a different color. Also, at the same time, Scwhinn contracted a couple of other companies to build Paramounts. Kestrel produced a carbon Paramount in 1992. Waterford, started by former Schwinn employees Richard Schwinn and Marc Muller, built some of the best Paramounts ever made. The Waterford bikes are still worth a lot of money. As for the PDG bikes, Marc Muller and Frank Brilando were in charge at the time. The blue frame color with red accents was only available on the Series 3 model. After I got the bike, I set it up with Shimano 600 components. In November of '05, I built it up as a single speed. I converted the fork and stem into a threadless version. However, I needed cash for a couple of bikes so I sold the frame on eBay.
1992 Schwinn Paramount
Series 2 OS - Group-Exage, Color - Red with Blk
Series 3 OS - Group-RX100, Color - Blue with Red
Series 5 OS - Group-105, Color - Purple with White
Series 7 OS - Group-600, Color - Violet
Carbon Frame - Group-600, Color - Blue
Waterford - Group-Dura Ace, Color - Various